Hello World Wide Web people (Remember the days when the internet just started and the "World Wide Web" term was used frequently to say, internet, or online, and chat messengers like MSN or AOL maximum typing capacity was one sentence)
I report from 17th June 2008 Magicbox @ Esplanade event, it was mindblowing totally out of bonkers amazing, and the meaning, the spirit, the values that it held inside was touching and beyong explanantion. Secretly, I didn't like magic shows, they were like tacky gimmicks that I saw on TV and was like "Woooow" with this astounding expression, than I ran off five seconds later and played Barbie Dolls or went cycling with my best friends at that time. However this show was so inspirational and needed, it was like a "pick-up" call from God, it was beautiful and touching.
The full set of photos are with me, so if you need a digital copy let me know, I could send it to you via MSN or by a CD in Church :0)
Jamie and Nicolette
We had alot of fun times taking photos in the toilet. We like to think we have cosmic telepathy because we wore similar pattern outfits, but secretly, the faces when we met and saw each other outfits was amusing like "Hi... Is... Eh.. (looks down to examine outfit) Oh."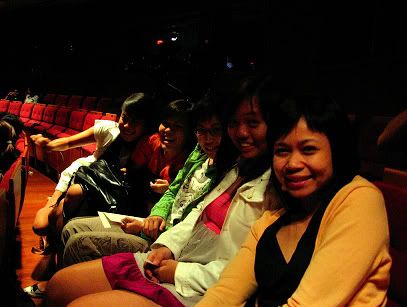 Dina's Cousin's Brother helped took the photo, all candid and perfectly pretty in God's and each other eyes.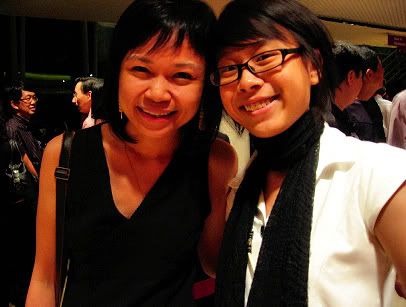 Mirabel and Nicolette.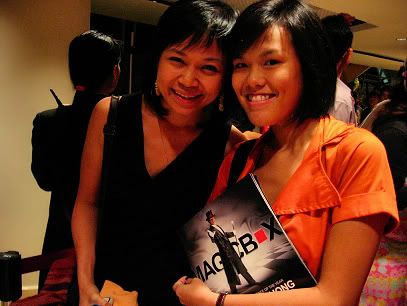 Mirabel and Jamie, two super dooper smilie queens.
Nicolette and a tall Brian, who was working at the Magicbox event, We support Pastor Khong! About the book that we were holding, its a limited edition book for $10 and you get to get Pastor Khong & Priscilla's signature after that, Ha ha but it belongs to a fellow Church brother of ours, we used it to pose to show our appreciation and support!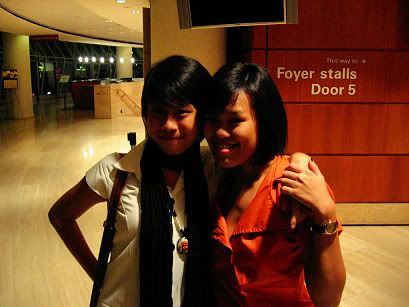 "The Regulars" Only featuring Nicolette & Jamie. (We should create a club name in church "The Regulars" club)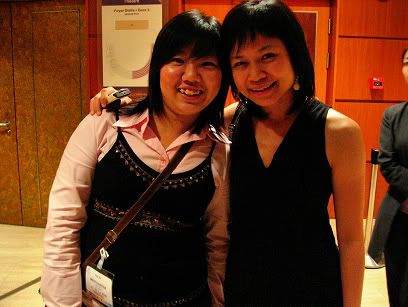 Lastly, our very pretty group photo! :0) Outside Hall 4 of the Esplanade Theatre, the lights there were really beautiful and the lighting was amazing. Everyone looked stunning and bright in there, (and outside too).
It was a great show! c:
P/S: We also got "interviewed" by some friendly, over enthusiastic loving tv people ("M" says that it'll probably be edited into a small clip to be shown in FC, perhaps) that was lots of fun, we were so "confident" and "strong" and when the TV camera came, all our "confidence" got sucked in, like the camera was the Dementor (from Harry Potter) but it was so exciting, and great.
Hoped you enjoy the photos, Many Happy returns and Happy Birthday Pastor Khong! :0) You look younger and younger, wiser and wiser, and more handsome year after year.
Much love
xoxo
Nicolette