Please See note: Please note, that we don't mean any harm when we post up such cute funny pictures of our brothers and sisters, ha ha! But we really want to extend our gratitude to the funny and adorable people who unknowingly/knowingly posed for such "photographs" :0) Because it really is worth showing as to how "crazy and mad" we can get, especially when We Live for God!
Let me know if you feel sensitive/uncomfortable with the photos below, and I'll take it down asap.
Hey Guys! :0)
Just for perks, here are some cute and funny photos I found when going through my photography folders. Ha ha, some perky snapshots of some of us and even our brothers having the weirdest/funniest pose in a picture, and also at that time not realising that one day it could be posted up on the
World Wide Web
for all to see.
Mwahahaha, Ulterior Blackma-- Okay. It's just a small collection I gathered up from the recent events, Ha ha there's lots more! But that's going to be kept for Christmas ya know?
Hugs
XOXO
Nicolette
Subject
: "
Snap!
Your on Candid Camera!"
What were they thinking, and how did that picture appear?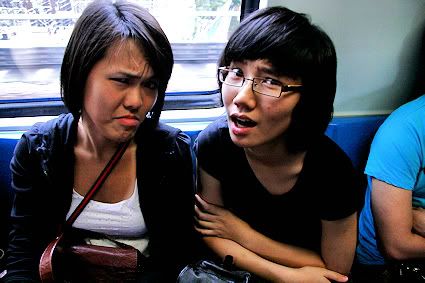 Taken on MRT - Michelle's Birthday
Person(s): Jamie and Michelle (They're a little wonky, but we still love them just so you know)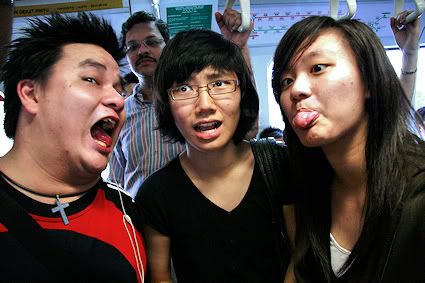 Taken on MRT - Michelle's Birthday

Person(s): Kai, Michelle, Sherminh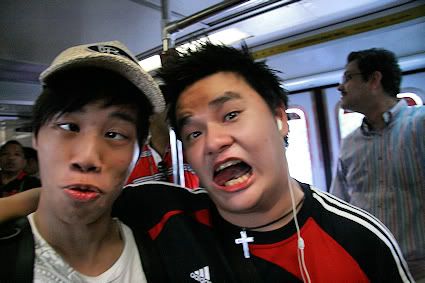 Taken on MRT - Michelle's Birthday
We deny knowing them and classified them as crazy people
.
(Okay fine, the one with the hat is called Chris, and the other one Kai....)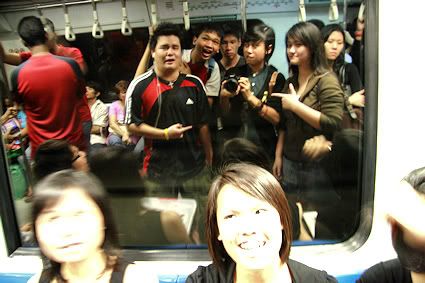 On the MRT - Michelle's Birthday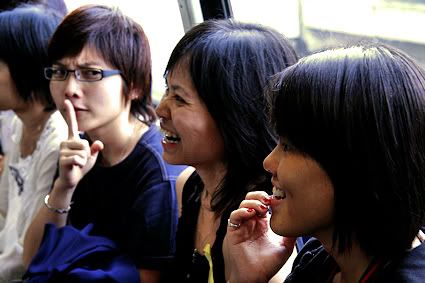 Okay, Ha ha! So just so you know, this is for fun and not saying that we're really crazy or insane in anyway. It's just a set of funny pictures at random events, and some of them we staged because we
love
making funny faces and acting like crazy people! (and sometimes admitting it)
But on the otherhand, Incase you think we really are sane.... We thank you. Yes, but I wanted to show to you one photo which was
captured au naturel
meaning, no staged whatsoever! So, you can think for yourself inside of your great brain:
Is She Crazy? Are we Really telling the Truth? Are we Lying? Oh no..... Are we crazy?!?!?
Have a nice day!
God Bless and Much much Love
Thanks for viewing this :0)
Thanks for letting us toy with your brains ha ha
.